Scan Master - SM16 is a micro controller based scanner cum controller.
It can measure and control various parameters like Temperature, Pressure etc.

It can have 16 channels with different type of thermocouples, RTD Inputs.

It has got 2 displays: LCD (128X64) for user interface and 7-segment LED for distant viewing of parameter values.

Two re-transmission outputs (4-20mA)from any two chosen channels.

Provision to choose & show Engineering Units (from 13 different units available) on LCD.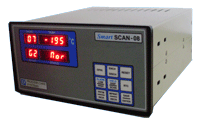 Smart Scan - 08 is a micro controller based scanner cum controller.

It can measure and control various parameters like Temperature, Pressure etc.

Available in ten different models, to suit various sensors and applications.

It can scan up to 12 RTDs or11 Thermocouples J,K,R,S or T type.

Ensures excellent linearity through piecewise linearisation.

Ideal for Temperature Monitoring ,Printing and Logging.

9 keys comprehensive keypad makes configuring the scanner to a particular application very easy.

Uses two rows of seven segment LED displays.One for showing channel no and its associated parameters while the other row shows the status of the channel [Alarm] and the group to which the channel belongs.

Allows four group of channels with one trip relay and one alarm relay for every group.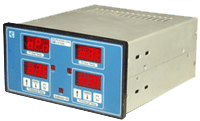 Indimon
is a Micro controller based 4 channel Indicator / Monitor.

Used where close monitoring of parameter values is required.

Two channels are equipped with independent relay O/Ps.

Used for Dryer applications.

Uses K type thermocouples.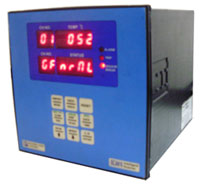 Iscan 16
is a versatile, Micro controller based Instrument, which can accept RTD input. The design of IScan16 has emphasized more on reliability by cutting down the component count as much as possible which also makes the product simplified. The microcontroller with its associated firmware allows for piecewise linearization and individual channel compensation value to be accounted for.
It has 3 relays viz . Alarm ,Trip & Sensor break.The status of these relays are designed to give out error condition if Iscan 16 is powered OFF.No error condition of these relays is retained for about 3 seconds even after the power input to the Iscan 16 is removed.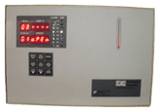 Iscan 32 is an expanded version of IScan 16 having 32 RTD channels. The system also allows for individual alarm and trip set points for every channel. It also takes care to prevent associated relays from chattering by introducing pre determined dead band for every set point.
The keypad is designed to enter the commands and the associated parameters easily with minimum key operations. Similarly two rows of displays make it possible to have simultaneous display of a particular channel parameter and its current status. For the user interface second row is made use of, so that parameter display is uninterrupted.
The system provides for computer connectivity through an RS485 port.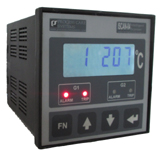 Scan RTD - 04 is an LCD and micro controller based scanner with in built individual channel relays for ON/OFF control of temperature at 4 different points.


Designed to control temperature with RTD sensors.

Ideal for lab applications and chiller machines etc.

J,K type also available.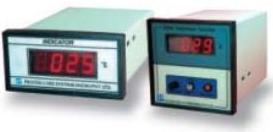 Indicator/Controller has a 3 digit LED display and can be used for measurment and control of Temperature, Pressure, Voltage, Current etc.The control output is of ON/OFF type. Separate provision for adjust, setting value, hysteresis is available.Separate provision for adjusting set values.